Video: Fluid Data Overview
sponsored by Dell, Inc.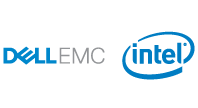 ABSTRACT:
As you know, applications running in a virtual data center must be secured against downtime and disaster. And as new solutions are deployed, they must be able to save costs in manpower, energy consumption and expenditures for storage capacity.
Dell Fluid Data architecture was designed to always put the right data in the right place at the right time. With Fluid Data storage, your data center or cloud will be efficient, agile and resilient, easily adapting to changing business conditions.
Check out this 3-minute webcast to learn what Fluid Data can do for you, including:
Cut the time and cost of managing storage up to 80%
Scale with ease on a single platform, adopting new technologies as they emerge
Establish a flexible grid of virtualized storage for your enterprise and the cloud
Ensure business continuity with integrated snapshots, replication and data movement
And more
(THIS RESOURCE IS NO LONGER AVAILABLE.)